HONOLULU –- Hawaiian Airlines today announced its systemwide traffic statistics for the month of July and year-to-date (see chart below). In July, Hawaiian served 547,316 passengers, while recording Revenue Passengers Miles (RPMs) of 627,195,000, Available Seat Miles (ASMs) of 698,357,000, and Load Factor (LF) of 89.8 percent.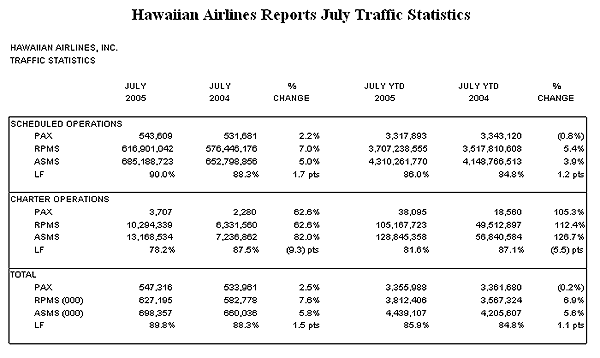 PAX – passengers transported
RPM = one paying passenger transported one mile
ASM = one seat transported one mile
LF = percentage of seating capacity utilized
Hawaiian Airlines, Inc., is a subsidiary of Hawaiian Holdings, Inc. (AMEX and PCX: HA). Additional information is available online at HawaiianAirlines.com.