Nation's Top Load Factor in July and Year-to-DateHONOLULU --
Even as the peak summer travel season increased traffic nationwide, Hawaiian Airlines continued to lead all carriers at filling seats with scheduled service in July, posting top marks for load factor at 88.3 percent and year-to-date at 84.8 percent (see chart).
Joshua Gotbaum, Trustee of Hawaiian Airlines, commented, "Month after month, whether it's busy or slow, no airline has done a better job attracting travelers with its service and reliability than Hawaiian Airlines."
The nation's top five airlines for load factor – after Hawaiian – were JetBlue, 87.9 percent; Continental, 86.1 percent; Northwest, 85.8 percent; and ATA, 85.2 percent, according to Aviation Daily. July marked the sixth time in seven months that Hawaiian has topped the industry.
While Hawaiian's year-over-year load factor for July – typically one of its biggest months for business – remained flat compared to last year, the company improved in the categories of passengers carried, revenue passenger miles (RPMs), and available seat miles (ASMs).
Year-to-date, Hawaiian maintained strong growth in all traffic categories versus the same period for 2003, highlighted by a 15.3 percent improvement in RPMs.
Overall load factor improved by 8.0 percentage points through the first seven months, each of which has been led by Hawaiian. The rest of the top five were JetBlue, 83.2 percent; Northwest, 80.5 percent; United, 79.6 percent; and Spirit, 78.2 percent.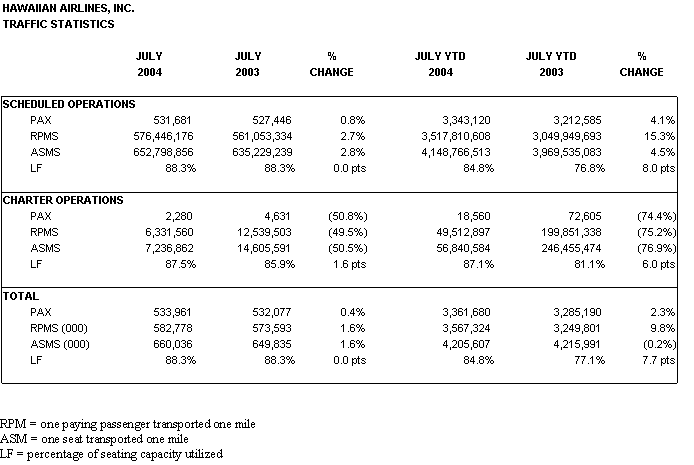 About Hawaiian Airlines
Hawaiian Airlines, the nation's number one on-time carrier, is recognized as one of the best airlines in America. Business travelers recently surveyed by Condé Nast Traveler rated Hawaiian Airlines as having the best in-flight service and meals of any U.S. carrier. In addition, Hawaiian is ranked as the nation's fifth best airline overall by Travel + Leisure, ahead of every other carrier flying to Hawaii.
Celebrating its 75th year of continuous service, Hawaiian Airlines is Hawaii's biggest and longest-serving airline, and the second largest provider of passenger air service between Hawaii and the mainland U.S. Hawaiian offers nonstop service to Hawaii from more mainland U.S. gateways than any other airline. Hawaiian also provides approximately 117 daily jet flights among the Hawaiian Islands, as well as service to Australia, American Samoa and Tahiti.
Hawaiian Airlines, Inc., is a subsidiary of Hawaiian Holdings, Inc. (AMEX and PCX: HA). Since the appointment of a bankruptcy trustee in May 2003, Hawaiian Holdings has had no involvement in the management of Hawaiian Airlines and has had limited access to information concerning the airline. Additional information is available at
www.HawaiianAir.com
.