HONOLULU –- Hawaiian Airlines led the nation's carriers at filling seats in February with a systemwide load factor of 83.7 percent.
The other top five airlines for load factor were JetBlue, 83.3 percent; Spirit, 79.2 percent; Northwest, 77.6 percent; and America West, 75.6 percent, according to traffic statistics reported by Aviation Daily. The industry average was 72.0 percent. (See chart.)
Hawaiian also improved its revenue passenger miles (RPMs) by 4.3 percent and increased its Available Seat Miles (ASMs) by 3.2 percent, boosted by big year-over-year increases in charter flight operation.
Year-to-date, Hawaiian's load factor averaged 84.4 percent for the first two months, again leading all carriers and an improvement of nearly three percentage points over 2004. Following Hawaiian were JetBlue, 83.5 percent; Spirit, 78.5 percent; Northwest, 77.1 percent; and United, 75.5 percent. The industry average was 71.9 percent.
Additionally, through the first two months, Hawaiian's RPMs improved by 7.7 percent with ASMs increasing by 4.0 percent.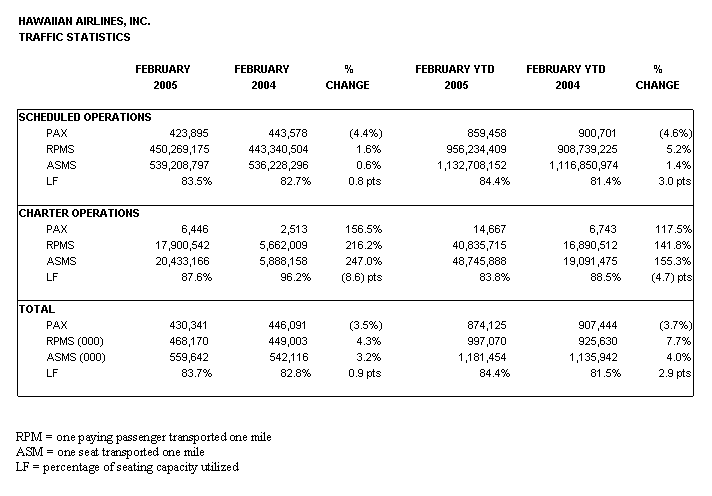 About Hawaiian Airlines
Hawaiian Airlines, the nation's number one on-time carrier, is recognized as one of the best airlines in America. Readers of two prominent national travel magazines, Condé Nast Traveler and Travel + Leisure, have both rated Hawaiian as the top domestic airline serving Hawaii in their most recent rankings, and the fifth best domestic airline overall.
Celebrating its 76th year of continuous service, Hawaiian is Hawaii's biggest and longest-serving airline, and the second largest provider of passenger air service between Hawaii and the U.S. mainland. Hawaiian offers nonstop service to Hawaii from more U.S. gateway cities than any other airline. Hawaiian also provides approximately 100 daily jet flights among the Hawaiian Islands, as well as service to Australia, American Samoa and Tahiti.
Hawaiian Airlines, Inc. is a subsidiary of Hawaiian Holdings, Inc. (AMEX and PCX: HA). Since the appointment of a bankruptcy trustee in May 2003, Hawaiian Holdings has had no responsibility for the management of Hawaiian Airlines and has had limited access to information concerning the airline. Additional information is available at www.HawaiianAir.com.